Overview
Achilles tendinitis is an overuse injury of the Achilles tendon, the band of tissue that connects calf muscles at the back of the lower leg to your heel bone. Achilles tendinitis most commonly occurs in runners who have suddenly increased the intensity or duration of their runs. It's also common in middle-aged people who play sports, such as tennis or basketball, only on the weekends. Most cases of Achilles tendinitis can be treated with relatively simple, at-home care under your doctor's supervision. Self-care strategies are usually necessary to prevent recurring episodes. More-serious cases of Achilles tendinitis can lead to tendon tears (ruptures) that may require surgical repair.
Causes
There are a number of causes and risk factors associated with Achilles Tendinitis. One of the most common causes is simply a lack of conditioning. If the tendon, and muscles that connect to the tendon, have not been trained or conditioned, this can lead to a weakness that may result in an Achilles injury. Overtraining is also associated with Achilles Tendinitis. Doing too much, too soon places excessive strain on the Achilles tendon and doesn't allow the tendon enough time to recovery properly. Over time small tears and general degeneration result in a weakening of the tendon, which leads to inflammation and pain. Other causes of Achilles injury include a lack of warming up and stretching. Wearing inadequate footwear, running or training on uneven ground, and simply standing on, or in
something
you're not meant to. Biomechanical problems such as high arched feet or
flat
feet can also lead to Achilles injuries.
Symptoms
The pain associated with Achilles tendonitis can come on gradually or be caused by some type of leg or foot trauma. The pain can be a shooting, burning, or a dull ache. You can experience the pain at either the insertion point on the back of the heel or upwards on the Achilles tendon within a few inches. Swelling is also common along the area with the pain. The onset of discomfort at the insertion can cause a bump to occur called a Haglund's deformities or Pump bump. This can be inflammation in the bursa sac that surrounds the insertion of the Achilles tendon, scar tissue from continuous tares of the tendon, or even some calcium buildup. In this situation the wearing of closed back shoes could irritate the bump. In the event of a rupture, which is rare, the foot will not be able to go through the final stage of push off causing instability. Finally, you may experience discomfort, even cramping in the calf muscle.
Diagnosis
Confirming Achilles tendonitis may involve imaging tests. X-rays provide images of the
bones
of the foot and leg. Magnetic resonance imaging (
MRI
) is useful for detecting ruptures and degeneration of tissue. Ultrasound shows tendon movement, related damage, and inflammation.
Nonsurgical Treatment
There are a variety of treatments for Achilles tendonitis. These range from rest and aspirin to steroid injections and surgery. Your doctor might suggest, reducing your physical activity, stretching and strengthening the calf muscles, switching to a different, less strenuous sport, icing the area after exercise or when in pain, raising your foot to decrease swelling, wearing a brace or compressive elastic
bandage
to prevent heel movement, undergoing physical therapy, taking anti-inflammatory medication (e.g., aspirin or ibuprofen) for a limited time, getting steroid injections, Sometimes more conservative treatments are not effective. In these cases, surgery may be necessary to repair the Achilles tendon. If the condition intensifies and is left untreated, there?s a greater risk of an Achilles rupture. This can cause
sharp
pain in the heel area.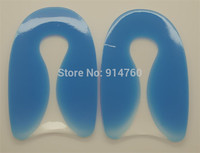 Surgical Treatment
Your doctor may recommend surgery if, after around six months, other treatments haven?t worked and your symptoms are having an impact on your day-to-day life. Surgery involves removing damaged areas of your tendon and repairing them.
Prevention
By properly training the body, an athlete can build the strength of their tendons and muscles. Following a workout and dieting plan, the body will be able to build muscle and strengthen most effectively. Additionally, doing the following can prevent tendinitis. Wearing appropriate shoes will give your foot the support it needs for proper movements of the foot and ankle. Improper movements will put additional stress on your body. Stretching before an athletic activity, Stretching primes the body for a taxing activity. Additionally, this will get your blood flowing and reduce the risk of pulling a muscle. Ask your doctor about orthotics, Custom orthotics can help get your foot into proper alignment. If the foot does not execute proper mechanics, the body will adjust which will cause pain and increase the chances of injury.