Overview
The plantar fascia is a tough and flexible band of tissue that runs under the
sole
of the foot. It connects the heel bone with the
bones
of the foot, and acts as a kind of shock absorber to the foot. Sudden damage, or damage that occurs over many months or years, can cause tiny tears (microtears) to develop inside the tissue of the plantar fascia. This can cause the plantar fascia to thicken, resulting in heel pain. The surrounding tissue and the heel bone can also sometimes become inflamed.
Causes
Each time we take a step forward, all of our body weight first rests on the heel of one foot. As our weight moves forward, the entire foot begins to bear the body's weight, and the foot flattens and this places a great deal of pressure and strain on the plantar fascia. There is very little elasticity to the plantar fascia, so as it stretches only slightly; it pulls on its attachment to the heel. If the foot is properly aligned this pull causes no problems. However, if the foot is "pronated" (the foot rolls outward at the ankle, causing a break down of the inner side of the shoe), the arch falls excessively, and this causes an abnormal stretching of the relatively inflexible plantar fascia, which in turn pulls abnormally hard on the heel. The same pathology occurs with "supination" (the rolling inward of the foot, causing a break down of the outer side of the shoe). Supinated feet are relatively in flexible; usually have a high arch, and a short or tight plantar fascia. Thus as weight is transferred from the heel to the remainder of the foot, the tight plantar fascia hardly stretches at all, and pulls with great force on its attachment to the heel.
Symptoms
When plantar fasciitis occurs, the pain is typically
sharp
and usually unilateral (70% of cases).Heel pain worsens by bearing weight on the heel after long periods of rest. Individuals with plantar fasciitis often report their symptoms are most intense during their first steps after getting out of bed or after prolonged periods of sitting. Improvement of symptoms is usually seen with continued walking. Numbness, tingling, swelling, or radiating pain are rare but reported symptoms. If the plantar fascia continues to be overused in the setting of plantar fasciitis, the plantar fascia can rupture. Typical signs and symptoms of plantar fascia rupture include a clicking or snapping sound, significant local swelling, and acute pain in the
sole
of the foot.
Diagnosis
X-rays are a commonly used diagnostic imaging technique to rule out the possibility of a bone spur as a cause of your heel pain. A bone spur, if it is present in this location, is probably not the cause of your pain, but it is evidence that your plantar fascia has been exerting excessive force on your heel bone.
X-ray
images can also help determine if you have arthritis or whether other, more rare problems, stress fractures, bone tumors-are contributing to your heel pain.
Non Surgical Treatment
Plantar fasciitis is usually controlled with conservative treatment. Following control of the pain and inflammation an orthotic (a custom made shoe insert) will be used to stabilize your foot and prevent a recurrence. Over 98% of the time heel spurs and plantar fasciitis can be controlled by this treatment and surgery can be avoided. The orthotic prevents excess pronation and prevents lengthening of the plantar fascia and continued tearing of the fascia. Usually a slight heel lift and a firm shank in the shoe will also help to reduce the severity of this problem.
The office
visit will be used for careful examination and review to distinguish plantar fasciitis and plantar heel pain syndrome from other problems, many of which are outlined below. It is important to distinguish between a stress reaction of the calcaneus and plantar fasciitis. A feature of many calcaneal stress fractures is pain on lateral and medial compression of the calcaneus.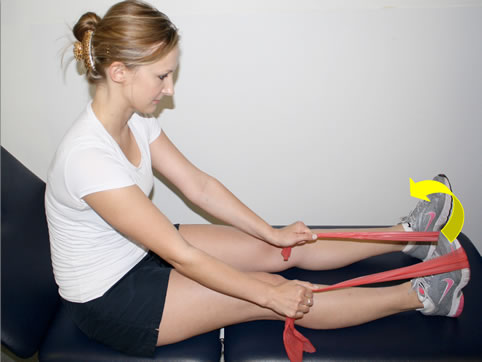 Surgical Treatment
The majority of patients, about 90%, will respond to appropriate non-operative treatment measures over a period of 3-6 months. Surgery is a treatment option for patients with persistent symptoms, but is NOT recommended unless a patient has failed a minimum of 6-9 months of appropriate non-operative treatment. There are a number of reasons why surgery is not immediately entertained including. Non-operative treatment when performed appropriately has a high rate of success. Recovery from any foot surgery often takes longer than patients expect. Complications following this type of surgery can and DO occur! The surgery often does not fully address the underlying reason why the condition occurred therefore the surgery may not be completely effective. Prior to surgical intervention, it is important that the treating physician ensure that the correct diagnosis has been made. This seems self-evident, but there are other potential causes of heel pain. Surgical intervention may include extracorporeal shock wave therapy or endoscopic or open partial plantar fasciectomy.